Recover My Files Screen Shots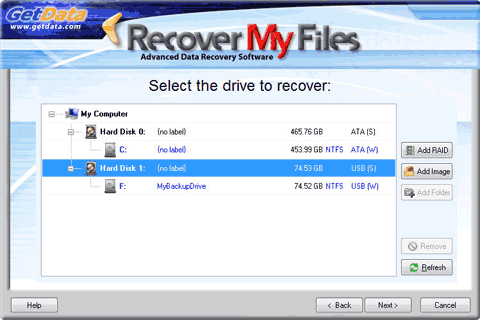 Selecting the drive to search
Recover My Files can search a hard drive at a "logical" level (the drive letter) or "hard disk" level (the entire physical hard drive).
A single hard disk drive may contain more than 1 logical drive letter. For example, the primary hard drive may contain drives C:, D:, E: and F:. When searching at a hard disk level Recover My Files ignores the drive letters and treats the entire drive as one continuous stream of raw data.
Hard disk level access to the drive is very important as in many instances a drive letter can be accidentally removed or it can disappear. In most cases Windows reports the drive as RAW and does not provide access to its contents.
Recover My Files also give the ability to "add a folder to the search". This means that users can search the folders on their computer for missing or lost files. This is an excellent way to search for temporary files created by programs like Microsoft Word, or to search the Temporary Internet Files folder for files download from the Internet which have not yet been deleted.
The professional version of Recover My Files also support recovery from RAID drives and image formats (including EnCase, DD, RAW, SMART, and ISO). These devices are also added in this window.

Recover My Files download instructions
Click the download button to begin the download.
If possible, save then install the Recover My Files installation program on a drive other than the one on which your files were lost.
Run Recover My Files, search your drive and preview the files found in the results screen.
NOTE: Software will only run on Windows PC's
» Previous Versions