Recover My Files Data Recovery Software in the Media
June 2008 - Recover My Files - Data Recovery – a handy utility that will make sure nothing gets lost forever!
If you have ever lost a file that was really important at a time when it was least necessary, you know this frantic feeling very well. Files can be lost accidentally after a power failure, a hardware crash or a human mistake, and there isn't much we can do about it. However, if you think that a deleted file is something you can't get back, you are wrong. Fortunately, there are tools that can save you in the most desperate situations – and Recover My Files - Data Recovery is one of the greatest examples!

This handy utility will take good care about your lost files. Its intuitive interface minimizes your involvement into the process. Just point to the drive you would like to recover files from and let the software work its magic! In fact, it's so easy that even first-timers won't have any problems with it. Recover My Files - Data Recovery supports all modern versions of Windows and file system types. It works with all kinds of media: hard drives, USB flash drives, memory cards, floppy disks – anything you can use to store your information on. Not only does it recover deleted files, but also works with formatted and heavily damaged partitions. Even if you reinstalled your operating system, chances are that you will still be able to get your valuable information back! You can preview the detected files on the go during the initial scanning process and pick the ones that you want to recover, which saves time and limits your choice to what you really need.

***Don't let accidents ruin your work or destroy your favorite photos! Recover My Files - Data Recovery will prove to be worth every penny you spend on it, as it is capable to help in situations when other tools just don't work!***
25 Jan 2006 - Recover My Files Data Recovery Software for Peace of Mind
The application can recover files not only from your hard disk but also from removable media such as floppy disks and zip drives, as well as all types of memory cards.
5 Jan 2006 - Recover My Files Data Recovery Software wins PC User Product of the Year

Senior reviewer John Hepworth said of Recover My Files: Recover My Files saves files destroyed by a number of common disasters: erased files, files on reformatted drives and files on damaged drives or partitions. The program scans a disk and finds individual files and folders.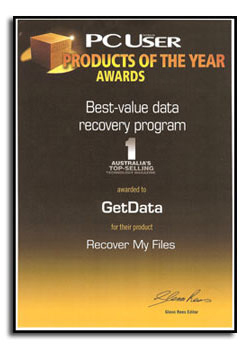 21 Apr 2005 - Recover My Files Data Recovery Software Wins Consensus Software Award

GetData Software Development Company has a won a coveted Consensus Award for the innovation, performance and market potential of its lead product Recover My Files Data Recovery software. The annual Consensus Software Awards are judged by an independent panel of industry experts".
25 May 2005 - A clever piece of Data Recovery Software
It's happened to all of us. You've just finished hours of work on the computer only to discover you have accidentally deleted everything. Who are you going to call? The answer is Recover My Files, a ground-breaking computer program developed by two ex-policemen and a physicist.
7 Apr 2005 - Recover My Files Data Recovery Software USA Retail Launch
GetData Software Development Company's Recover My Files, already in retail markets in six European territories and Japan, goes into around 1,000 retail stores across America next week including CompUSA, Fry's Electronics and Micro Center....