What is a Reseller?
As a Reseller you can log into your GetData account, purchase software at a discounted rate, and create activation keys in your end users name. You then send the activation details to your end user.
Apply for Reseller Access here.
Login To Your GetData Account
Login: https://support.getdata.com/my or click "Account" at the header of this website. If you do not know your password, use the "Send Me My Password" link.
Reseller Portal
Access the Reseller Portal via "My Home" > "My Shop: Make a sale via GetData Shopping Cart". If you are not registered as a reseller this link will not appear.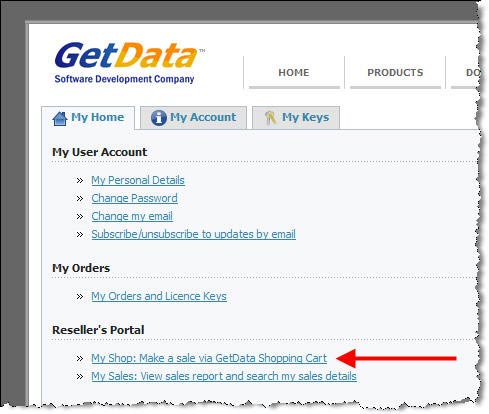 Step 1
Enter your customers email address (i.e. the end user of the software). If the customer email address already exists in the GetData system, the details will be used to pre-fill forms during the purchase process.
Step 2
The products that you are approved to resell will be listed. If the required product does not appear in this list, please contact sales@getdata.com to request it to be added to your GetData reseller account.
Reseller discounts are created on a per product basis. Your reseller discount for each product is shown on this screen. Note that due to manufacture and shipping costs we do not provide reseller discounts for CD's or activation dongles.
Select the quantity of each product that you require (volume discounts will be calculated and displayed in the next page) and select "Proceed to Checkout":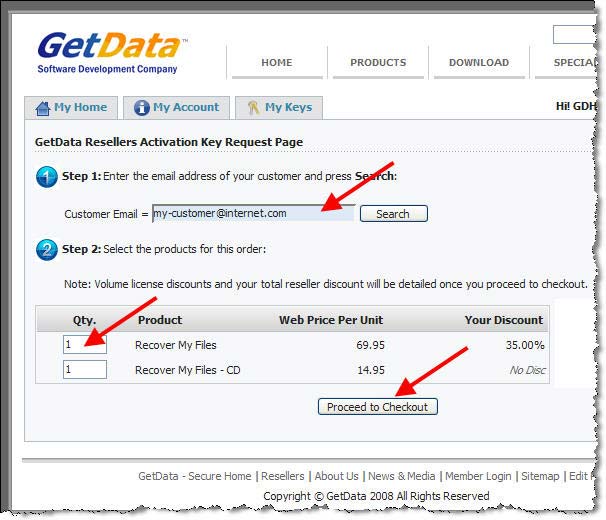 You will then proceed to the GetData checkout page, where the complete pricing information, including reseller discount, is displayed.
Important
Make sure that the "Customer Details" section contains your end user details, NOT your own reseller details. This is necessary to enable product activation by the end user.
Delivery of Activation Keys
Select a payment method at the bottom of the page, and then "Complete and Checkout" to place the order. Once the purchase is approved, product activation details will be displayed on a web page, and will also be sent to your reseller email address. It is your responsibility to send product activation keys to your customer.
Delivery of Physical Products
Any physical product will be shipped directly to the end user. If you wish the physical product to be sent to your reseller address, you must "Use a different delivery address" during the order process.
Technical Reseller Support
For reseller technical support, please mail sales@getdata.com, or contact GetData Head Office during Australian business hours on +61 2 82086053.